Use your My Dashboard on LINKcat to view your entire LINKcat account and to see your checked out items, view your checkout history, place and manage holds, view any fees you may owe, and look at your personal details.
To access your Dashboard, click My Dashboard in the upper right-hand corner of the screen, choose the My Dashboard option, and then log in to your account.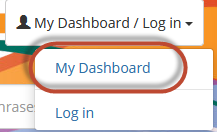 To learn more about using My Dashboard, see the LINKcat Help pages listed below:
Need more help?