Libraries Bounce Back
Materials available via curbside pickup will be local library materials only. Tips for finding local materials in LINKcat: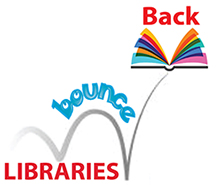 From the search results page, go to Available on shelf on the left side of the screen. Click your library's name to display titles that are currently available at that library. (If necessary, click more at the bottom of the list. In the pop-up box, select A-Z in the Sort by box to sort alphabetically.)
At the top of the screen, click the Library dropdown and optionally, choose a library to see its copies first when you're viewing a title in LINKcat.
Suspend your holds if you don't need them right away.
For more tips on searching in LINKcat, check Searching LINKcat. 
Contact your local library if you need additional help with LINKcat.
Most LINKcat library buildings remain closed to the public. More information about LINKcat library closures:
Most libraries have extended due dates in LINKcat to June 1, 2020 or later, for items that were checked out as of March 16, 2020. To see due dates, check your LINKcat Dashboard.

In the upper right-hand corner of LINKcat, choose My Dashboard. If prompted, log in to your account. Click Checked Out from your Library Dashboard.

Holds will be retained while libraries are closed to the public.
During this time, downloadable audiobooks and ebooks are accessible 24/7 with a library card.
In addition, a number of online resources are accessible 24/7 to everyone with a library card from a LINKcat library.
Your local library may provide additional online resources. Please check your library's website for more information.